A new series covering companies in the 8 to 80 Portfolio…
1) Why is Amazon an 8 to 80 Brand?
Launched as a bookseller in 1995, Amazon has grown to become one of the most influential companies in the world, used by people of all ages in all walks of life.
"I'll just buy it on Amazon" has become a transformational phrase in retail, representing the inexorable shift in consumer purchases from brick-and-mortar to online.
Key the Amazon ecosystem is their "prime" membership, boasting an estimated 150 members worldwide and 126 million in the US alone.
Being a prime member denotes a loyalty that few companies can claim, and Amazon ranks consistently high in terms of customer satisfaction.
"We've had three big ideas at Amazon that we've stuck with for 18 years, and they're the reason we're successful: Put the customer first. Invent. And be patient." – Jeff Bezos
2) What are its growth and financial trends?
Amazon last reported earnings on February 2, 2021.
The big news: Jeff Bezos will be stepping down as CEO later this year. Bezos has arguably had the most impressive tenure of any CEO in history, growing revenues from $150 million in 1997 to $386 billion in 2020. That's a 39% annualized growth rate.
Perhaps even more impressive was the patience investors afforded Bezos in pursuing his long-term vision, as Amazon lost money in their first 6 years as a public company. That patience was rewarded, as profitably over the the past 2 years has exceeded all previous years combined by a wide margin.
Revenues in the 4th quarter were up 44% over the prior year, Amazon's 77th consecutive quarter of double-digit YoY revenue growth. It was also the highest growth rate since Q3 2011. It goes without saying that few companies have benefitted from the stay-at-home economy as much as Amazon.
Net Income hit a record $7.2 billion, up 121% over the prior year.
A key driver to this profitability has been the phenomenal growth in its high margin cloud business, Amazon Web Services (AWS). AWS revenues grew 30% in 2020 to $45.4 billion.
In the 4th quarter of 2020, AWS accounted for 10% of Amazon's revenues and 49% of its operating income (source).
Amazon's tremendous growth during the covid-19 pandemic has necessitated a commensurate increase in its workforce. While most companies were laying off workers or on a hiring freeze, Amazon was on a record hiring spree. The company now has 1.3 million employees, a 500,000 increase (63%) from a year ago. Few companies in history have hired this many people in a single year.
3) The Climb
While Amazon's rise may seem easy in hindsight, it has had many doubters over the years.
Back in 1997, the year it went public, fortune published an article with the following headline: "Why Barnes & Noble May Crush Amazon."
The author argues… "Anything Amazon.com can do on the Internet, so, too, can Barnes & Noble. Once you look beyond the Website you begin to see why, in this battle at least, the odds favor the $3-billion-a-year Goliath [Barnes & Noble]."
The rest, of course is history, but not before the dot-com crash and a 94% drawdown for Amazon shareholders.
It would take nearly 10 years (December 1999 to November 2009) for Amazon's stock to hit a new high.
From there, Amazon would go on an incredible run, growing into one of the largest companies in the world.
4) What are major risks to future growth?
With revenues of over $386 billion in the past year, Amazon has become a behemoth. Maintaining its growth rates of the past will be nearly impossible given its current size.
Its high profit margin cloud business (30%) make it a target for the many competitors in the space (Microsoft Azure, Google Cloud, IBM Cloud, Oracle Cloud, VMware Cloud, Alibaba cloud, and more).
In e-commerce, competition is stiffening as well, with many retailers improving their online capabilities and companies improving their direct-to-consumer offerings. Walmart, Amazon's largest competitor in the space, recently launched Walmart+, which will likely be formidable rival to Amazon prime.
From a stock perspective, valuation is the primary concern, as is the case with many tech companies today. Trading at over 50x next year's earnings, expectations are high, making Amazon vulnerable to multiple compression should it fail to meet or beat these lofty expectations.
5) Howard's Take…
"Amazon has been one of my 8 to 80 stocks from the beginning. Amazon has the brand and the products that people live with from the crib to their final homes. It is my proxy for the cloud, ecommerce and the digital economy.
At their size, Amazon is a planet, not just a company and a country. It moves where it likes.
Jeff Bezos may be stepping down to take the heat off the company as the administration changes. It also may set up some bigger changes for Amazon, including an eventual spinning off of AWS. In the end, not much will change at Amazon as I am sure Bezos will still have a lot of say in the overall direction of the new businesses.
Amazon will never, ever, ever be cheap. As a planet, they will always get the benefit of the doubt from investors. There will be times when the mood of the market changes and Amazon does drop 20-50 percent. When it does, remember how they think about turning their costs into sources of revenue (see chart below) and you should be able to keep your cool and add into panics, not sell." – Howard Lindzon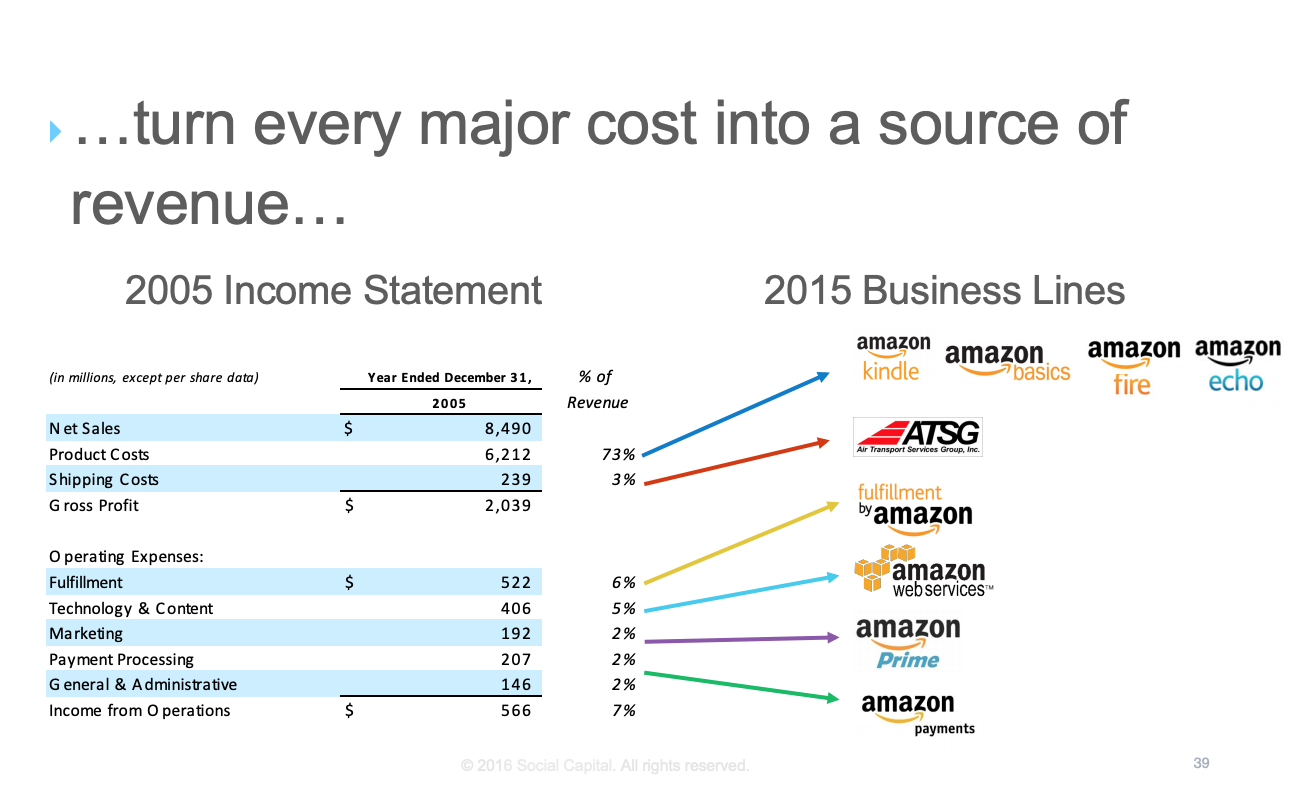 ---
To learn more about the 8 to 80 Portfolio managed by Compound, click here.
Read more 8 to 80 Spotlights…
Google
Apple
Netflix
Nike
Zoom
Shopify
Spotify
To sign up for our free newsletter, click here.
Disclaimer: All information provided is for educational purposes only and does not constitute investment, legal or tax advice, or an offer to buy or sell any security. For our full disclosures, click here.