A new series covering companies in the 8 to 80 Portfolio…
1) Why is Google an 8 to 80 Brand?
"Just google it."
A phrase that has become synonymous with finding the answer to any question imaginable.
Google is now estimated to control over 90% of the world's search market, used by people of all ages.
Its reach goes well beyond search, with YouTube boasting over 2 billion user worldwide (source).
In the e-mail market, Gmail is the market leader with 43% share and over 1.8 billion users (source).
2) What are its growth and financial trends?
Google last reported earnings on October 29, 2020.
Both revenues and earnings beat expectations by a wide margin ($46.17 billion revenue vs. $42.9 billion estimate; $16.40 EPS vs. $11.29 estimate) as the comeback in ad spending was much quicker than anyone anticipated.
Year-over-year, revenues were up 14%, bouncing back sharply from Q2's rare decline (on slower ad spending during the shutdowns).
Key to revenue growth in Q3 was the surge in YouTube ad revenue to $5.04, an increase over 32% from the prior year (source). YouTube now has over 30 million music and premium paid subscribers and over 3 million YouTube TV subscribers. The YouTube acquisition in 2006 for $1.65 billion might have been the "best tech deal ever."
Google Cloud also continues to grow at a rapid pace, with $3.44 billion in revenue, a 45% increase over the last year.
Overall, Google is expected to generate $176 billion in revenues in 2020, up 8.6% over 2019 and a 6x increase over the last 10 years.
With net income of over $36 billion, it is now one of the most profitable companies in the world.
3) The Climb
While Google's rise seems easy and predictable in hindsight, history tells another story.
In 1998, Yahoo actually turned down the chance to buy the Google technology for $1 million.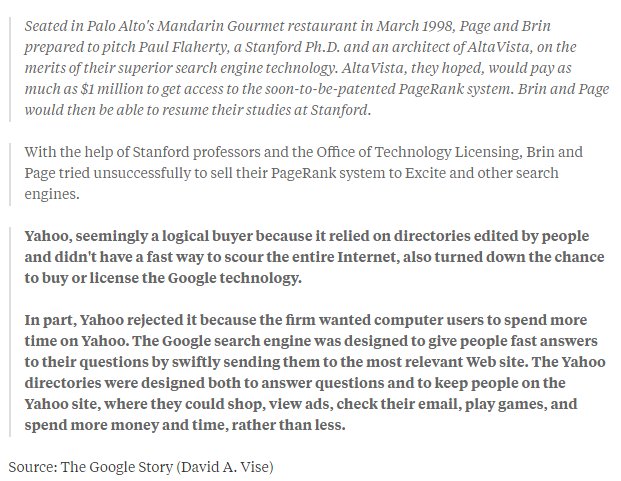 When Google went public in 2004, the silicon valley "smart money" saw Google stock as a "sucker's bet" (source).

Steve Wozniak, the co-founder of Apple, had this to say of the Google IPO…
"I'm not buying (Google IPO). It's not likely to appreciate a lot in the near future or maybe even the long future." -Steve Wozniak, Aug '04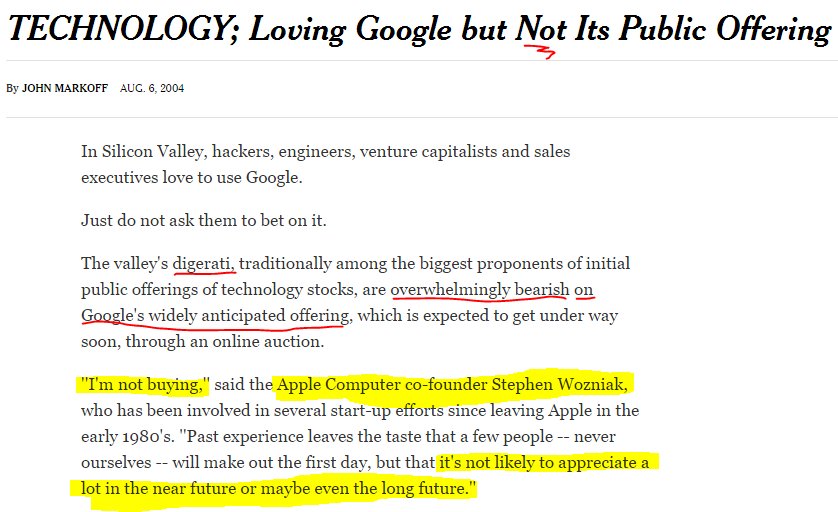 The rest, of course, is history. Google is up 3,437% since its IPO, an annualized return of 25% per year.
It's current market cap is $1.2 trillion (trailing only Apple, Microsoft and Amazon). That's 1.2 million times what Yahoo could have bought it for in 1998.
4) What are major risks to future growth?
Google has become one of the largest and most profitable companies in the world. Its high profit margins make it a big target from competitors, of which there are many.
Google's control of the search market also makes it an antitrust target, as the justice department suit detailed in October (read here).
From a stock perspective, valuation is the primary concern, as is the case with many tech companies today. Trading at over 34x earnings and 7x sales, expectations are high, making Google vulnerable to multiple compression should it fail to meet or beat investors' lofty expectations.
5) Howard's Take…
"Google has been the ugly duckling of FAANG. Microsoft, which is not in the FAANG gets more love. So does Tesla.
I have done 120 episodes of 'Panic With Friends' that talk about investing, markets and stocks and Google rarely gets mentioned.
As always, though, I think Google has many cards to play and tricks up their sleeves. They are behind Microsoft and Amazon in the cloud, but I would not count them out of AI. I do think they need to be more aggressive with acquisitions (remember Android, YouTube, DoubleClick), but I am confident they will go on the attack again soon.
Despite the lack of attention, Google has been the best performing FAANG stock of late, hitting all-time highs daily and the ongoing DOJ investigation will likely slip away under the new president.
With Search, YouTube, Gmail, Maps and Android I continue to hold Google as an 8-80 company in my portfolio." – Howard Lindzon
To learn more about the 8 to 80 Portfolio managed by Compound, click here.
Other 8 to 80 Spotlights…
Netflix
Amazon
Apple
__
To sign up for our free newsletter, click here.
Disclaimer: All information provided is for educational purposes only and does not constitute investment, legal or tax advice, or an offer to buy or sell any security. For our full disclosures, click here.